Beautiful People Like YOU
ORDER YOUR SHIRT
Join the Movement.
Lend your Beautiful face to this gallery of Beautiful people from all over the globe.
YOU are Beautiful In Every Shade.
YOU are Beautiful In Every Shape.
Nikia Phoenix is Beautiful
Model-Blogger-Image Creator
Quote:
I'm not saying that I'd like for this society to be colorblind. I love color. I love being a woman of color. It is who I am, and I can't change that nor would I want to. I'd just like for others to see what I see: the beauty in the rainbow of human beings. We come in so many different tones, but not one is prettier than the other. So no matter if I'm pale in the winter and golden in the summer, I am and we are Beautiful in Every Shade. Embrace that and love the skin you're in.
Biography
Born and raised in South Carolina, Nikia started modeling after being discovered in a coffee shop. Since then her face has been in magazines, billboards, and on television. Nikia also promotes natural beauty and self love. "Embrace what you have. Love what Mother Nature gave you."
Learn more at www.modelliberation.com
Bobbiette is Beautiful
Marketer. Model. Mother.
Photographed by Chris Charles of Creative Silence at the 2nd BEAUTIFUL IN EVERY SHADE ™ Open Photo Shoot in Durham, NC
Elaine is Beautiful
daughter, sister, wife, mother. an air force brat, ENTP. friend. a filipina married to a german/english/irish white boy. (my boys will have to check "other" when filling in forms). in my head, I'm young-ish, strong, rational, amusing (I crack myself up all the time). a voracious reader and nightcap drinker—occasionally at the same time. it's an escapist coping mechanism kind of thing. 40-ish-ness brings an unapologetic acceptance of self that is freeing and wonderful. I accept and appreciate and welcome that people have ideas and beliefs and thoughts different than mine, and am finally at an age when I embrace my own, with no apologies. not with righteousness, just acceptance. I am so close to being completely comfortable in my own skin. at least way more often than not. how does this translate? in addition to being a wife and mother and all those other things, I am a photographer (I put it on LinkedIn, so it must be true). I will make time to do what I love. what I need to do. I will put myself first. sometimes.
-elaine oyzon mast
Stan and Sydney are Beautiful
I am the father of two young girls. I surround them with positive people, books, poems, music and messages about how intelligent, smart and Beautiful they are. Instilling positive self-esteem in their life will be ongoing so that if there is ever a moment later on in life they ever feel self-doubt, it will be just that..... a moment.
Anirudh is Beautiful
Poet. Programmer.
"Where there is uncertainty, there is possibility."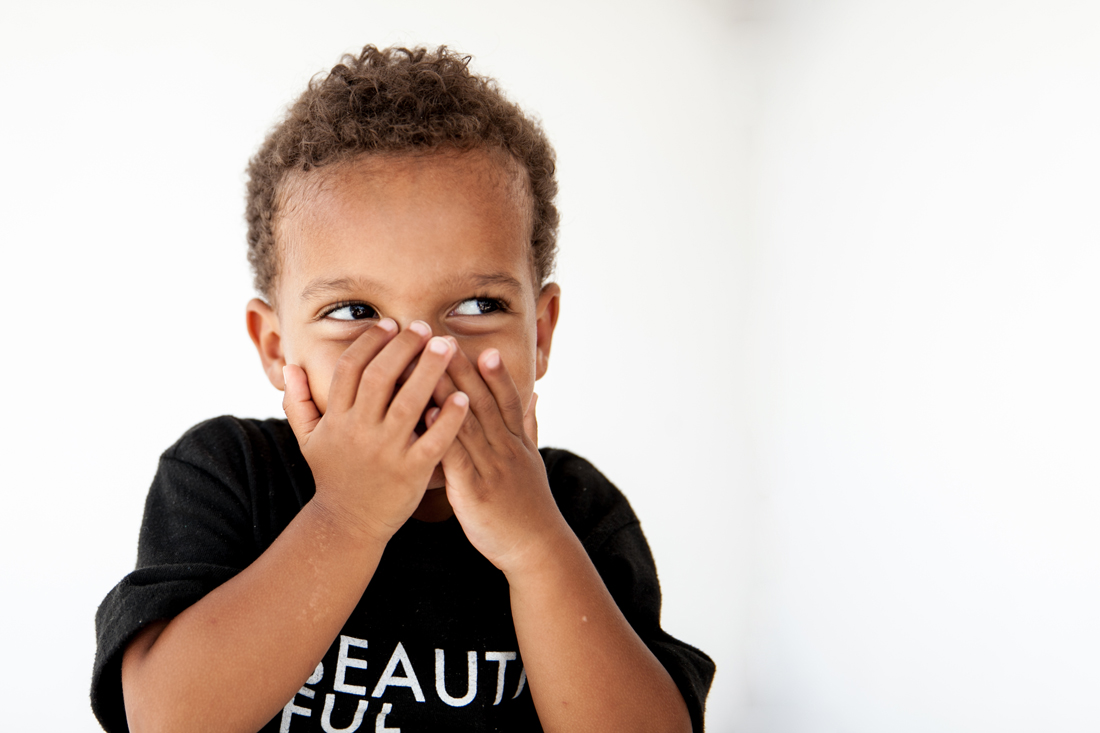 Isaiah is Beautiful
"All this? For me?"
Yes, son.
Photo of Isaiah by Ross Oscar Knight at the inaugural BEAUTIFUL IN EVERY SHADE™Open Photo Shoot in Atlanta, GA
Jezra is Beautiful
This is me damn it! I look the way I look, think the way I think, feel the way I feel, love the way I love! Take me or leave me. Accept me or walk away! Do not try to make me feel like less of a person, just because I don't fit your idea of who I should be and don't try to change me to fit your mold. If I need to change, I alone will make that decision. When you are strong enough to love yourself 100%, good and bad you will be amazed at the opportunities that life presents you for being YOU!!
Bruna and Anna are Beautiful
I met these beauties, Bruna and Anna, at the University of Brasilia. Bruna, with shorter hair, is a sociologist who studies gender, race, and violence and her sister Anna is a political scientist who studies the production of knowledge in black women. Bruna translated a talk I gave in the sociology department and we immediately clicked! I thought that she would represent the "Beautiful in Every Shade" concept, well…beautifully. When we planned a brunch date, I was surprised when she picked me up that there were two of them! I had to run upstairs and get another shirt! Lovely on the inside and out, we talked for hours and made plans for my return. Yay to new friends!

I'll be blogging later about the perspectives of these Afro-Brazilian women on race in Brazil and the US and their call to action for more black women to publish in Portuguese so that important concepts can be shared with a Brazilian audience.
-Melissa Creary (Scholar, Researcher, Artist, Special Contributor for 50 Shades of Black)
Evelyn is Beautiful
Hello, my name is Evelyn, and I'm a self proclaimed, Latina Fashionista at heart.
"Today I'm sharing with you this cool t-shirt that my daughter found on Instagram and forwarded to me. As soon as I saw it, I knew I had to have it.
Let's show the world that beauty comes in ALL colors, shapes and sizes!"
As Quoted on her Blog: Fashionista Over 40!
Okorie is Beautiful
Screenwriter. Musician (Cellist). Father. Husband.
Sonia is Beautiful
"I love myself as I am. The more I feel this way, the less I worry about the opinions of others".
Tina is Beautiful
Professor. Photographer.
Venus Is Beautiful
Needless to say, I love this movement. I love the idea of creating dialogue about race, gender, and sexuality through creative projects that bring people together in a safe environment. Additionally, not only is creating the dialogue important for this campaign, but empowering people to find the beauty and validity in their differences. It totally challenges our thoughts about beauty, gender, family structure, and other entities that make up our societal "norms" that we have been taught through other forms of media. Using media to combat media…I love it!
As featured on her blog Pinkklipstick.com
Chris Charles is Beautiful
When you design a shirt that goes this hard you can expect the photo of you rocking it to look like this. Meet the man behind the design. Our features artist Chris Charles of Creative Silence holding it down in our signature T he designed exclusively for Beautiful In Every Shade™
Paola is Beautiful
"My name is Paola. I am the founder of Fanm Djanm. I support Beautiful In Every Shade because not only is it an inspiring movement but it's powerful. The idea of making everyone feel beautiful no matter their skin tone or background is what we need in this world."
Analy is Beautiful
I am my mother's daughter. I am a strong, resilient Mexicana.
Nina is Beautiful
The world is my catwalk as I am an example...in word, in conduct, in love, in spirit, in faith, in purity. - Nina Brewton
("I am a writer who speaks & a speaker who sings.")
Barbie Conga is Beautiful
"Thank you so much for this amazing tee and for spreading such a beautiful message."
Kadijah is Beautiful
FINDING MY QUEENDOM
For twenty years of my life, I did not know who I was. For twenty years I was seeking the one who I wanted the most, myself. It was my sophomore year in college when I went on my spiritual journey and found who I truly am. I found the light within me. I lost people along the way, but it was for the best because in order for me to grow, I had to leave behind those who was not a good factor in my life. I was mocked, I was teased, I was talked about but I did not care because at the end of the day, I was happy. And your happiness is the most important thing ever in life. I do not seek the approval of society to be myself. I love that I'm different. I love that I stand out. I love the beautiful brown skin that I'm in. Along my journey I learned to love myself. I learned that we are Kings and Queens. I learned to always walk with my head held up high and let the Sun Goddess beam her rays on my beautiful crown. I learned to love and appreciate my brown skin. When I was younger I wanted to be white because I grew up in an area where it was very few black people. I wanted to have blonde hair and blue eyes. But when I found myself, I was like "what the heck was I thinking?" I love the kinks in my thick black hair. I love my brown eyes. I love my full lips. I love the rich history of my people. I love my melanin and I would not give that up for anything. I love my shade. My shade is beautiful. It's powerful beyond anything in this world. I love when I'm out and I see my fellow Kings and Queens and their melanin skin just glowing as I walk pass them. Don't hide who you are or where you came from. Embrace it because it makes you who you are. Love yourself, respect yourself, educate yourself. And always remember we come from royalty so you are naturally a King/Queen. Peace & Love to you all.
YOU are Beautiful
Order Your shirt today!
...then email a photo of you wearing it directly to us at beautifulineveryshade(at)gmail(dot)com
with some information about you. We'd LOVE to add you to the gallery with links to your page and share YOUR beauty with the world.
Join Us. We're Spreading Beauty Around the World!!!